ON SALE NOW
Introducing the Polaris Lab Water Systems
High Purity Water Made In The USA.
Click here for more info.
Stainless Steel Membrane Housings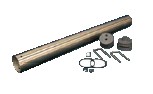 Attractive stainless steel vessels enhance system appearance and allow you to take full advantage of membrane capability. These are safer and more reliable than PVC pressure vessels. The style of our stainless steel vessels is designed for direct connection to standard and Filmtec/DOW style elements. Includes stainless steel housing end plugs and pins.
More Info
Product Name
Retail Price
Our Price


More Info

Reverse Osmosis Membrane Housing

Catalog id : SSMH2540

Stainless Steel, 2-1/2 inch x 40 inch
$378.86
$280.63


More Info

Reverse Osmosis Membrane Housing

Catalog id : SSMH2514

Stainless Steel, 2-1/2 inch x 14 inch
$256.94
$190.33


More Info

Reverse Osmosis Membrane Housing

Catalog id : SSMH2521

Stainless Steel, 2-1/2 inch x 21 inch
$350.74
$259.81


More Info

Reverse Osmosis Membrane Housing

Catalog id : SSMH4014

Stainless Steel, 4 inch x 14 inch
$1,149.76
$851.67


More Info

Reverse Osmosis Membrane Housing

Catalog id : SSMH4021

Stainless Steel, 4 inch x 21 inch
$402.40
$298.08


More Info

Reverse Osmosis Membrane Housing

Catalog id : SSMH4040

Stainless Steel, 4 inch x 40 inch
$391.82
$290.24



All Images are representative and may or may not be of actual product.



Tags : NORTHRIDGE WATER | STAINLESS | STEEL | MEMBRANE | HOUSINGS

NORTHRIDGE-WATER.COM content (C)2009-2023 APS Water Services Corporation - All rights reserved
Website Software - Multi-Website Content Manager - Wilson Web Engineering (C)2012-2023


Micro-Website is a trademark of Wilson Web Engineering

stainless steel membrane housings
northridge-water.com micro-website™
12/5/2023
1:22:00 PM




Google Apps
---