ON SALE NOW
Introducing the Polaris Lab Water Systems
High Purity Water Made In The USA.
Click here for more info.
Filmtec Commercial Reverse Osmosis Membranes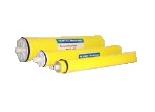 Filmtec reverse osmosis membrane elements for home drinking water are the industries most reliable. Advanced membrane technology and automated fabrication allow these elements to deliver consistent performance that equipment suppliers water treatment dealers and residential customers can rely on FILMTEC elements are shipped dry for convenient handling and long shelf-life. All flow rates at 225 psi trans-membrane pressure with a water temperature of 77F.
More Info
Product Name
Retail Price
Our Price


More Info

Filmtec Commercial Reverse Osmosis Membrane

Catalog id : TW30-2514

2-1/2 inch x 14 inch - 170 GPD
$345.99
$256.29


More Info

Filmtec Commercial Reverse Osmosis Membrane

Catalog id : TW30-2521

2-1/2 inch x 21 inch, 300 GPD
$423.60
$313.77


More Info

Filmtec Commercial Reverse Osmosis Membrane

Catalog id : TW30-4014

4 inch x 14 inch, 480 GPD
$667.73
$494.62


More Info

Filmtec Commercial Reverse Osmosis Membrane

Catalog id : TW30-2540

2-1/2 inch x 40 inch, 660 GPD
$502.45
$372.19


More Info

Filmtec Commercial Reverse Osmosis Membrane

Catalog id : TW30-4040

4 inch x 40 inch. 2200 GPD
$654.23
$484.61


More Info

Filmtec Commercial Reverse Osmosis Membrane

Catalog id : TW30-4021

4 inch x 40 inch. 900 GPD
$658.92
$488.09


More Info

Laboratory Grade Reverse Osmosis Membrane

Catalog id : 2540T

2-1/2 inch x 40 inch, 660 GPD
$733.34
$382.45



All Images are representative and may or may not be of actual product.



Tags : NORTHRIDGE WATER | FILMTEC | COMMERCIAL | REVERSE | OSMOSIS | | MEMBRANES

NORTHRIDGE-WATER.COM content (C)2009-2023 APS Water Services Corporation - All rights reserved
Website Software - Multi-Website Content Manager - Wilson Web Engineering (C)2012-2023


Micro-Website is a trademark of Wilson Web Engineering

filmtec commercial reverse osmosis membranes
northridge-water.com micro-website™
12/5/2023
1:56:37 PM




Google Apps
---