ON SALE NOW
Introducing the Polaris Lab Water Systems
High Purity Water Made In The USA.
Click here for more info.
Myron L Techpro Water Testing Meter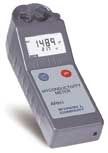 Obtain reliable and accurate measurements of your water source with the value-priced TechPro Series Instruments. Ideal for water treatment testing as well as other industrial commercial testing and applications. All three models are designed with internal electrodes to prevent breakage and prolong the electrodes useful life. The rugged and water resistant case protects the electronics of the instrument and fits comfortably in your hand. All TechPro models feature auto shut-off to prolong battery life.
More Info
Product Name
Retail Price
Our Price


More Info

TechPro water testing meter

Catalog id : ARH-1

Conductivity/TDS, pH, Temp.
$1,710.57
$1,196.37


More Info

TechPro water testing meter

Catalog id : AR-1

Conductivity/TDS, Temp. Replaced with the TP1 Meter
$1,342.94
$0.00
No
Longer
Available



All Images are representative and may or may not be of actual product.



Tags : NORTHRIDGE WATER | MYRON | L | TECHPRO | WATER | TESTING | METER

NORTHRIDGE-WATER.COM content (C)2009-2023 APS Water Services Corporation - All rights reserved
Website Software - Multi-Website Content Manager - Wilson Web Engineering (C)2012-2023


Micro-Website is a trademark of Wilson Web Engineering

myron l techpro water testing meter
northridge-water.com micro-website™
12/5/2023
2:25:50 PM




Google Apps
---