ON SALE NOW
Introducing the Polaris Lab Water Systems
High Purity Water Made In The USA.
Click here for more info.
RO Meters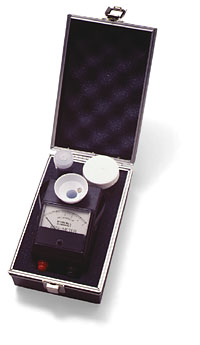 This compact instrument has been designed specifically to demonstrate and test POU reverse osmosis or distillation systems. By measuring electrical conductivity it will quickly determine the parts per million/Total Dissolved Solids ppm/TDS of any drinking water. Simply pour the sample into a permanent cell cup and press the rubber protected button. Ppm/TDS is immediately on the color-coated scale. Models without the color band dial are also available. No temperature adjustments needed.
More Info
Product Name
Retail Price
Our Price


More Info

Hand Held Condictivity Meter

Catalog id : RO-1

Myron L 0-1250 ppm TDS Meter
$388.28
$374.69


More Info

Hand Held Conductivity Meter

Catalog id : RO-1NC

Myron L 0-1250 ppm TDS Meter, No Color Band
$388.28
$374.69


More Info

RO-CHECK Reverse Osmosis Quality Monitor

Catalog id : RO-1NC

Good/Bad Display, constant monitoring at the RO Faucet
$388.28
$374.69


More Info

Myron-L RO-CHECK

Catalog id : RG

Faucet Mounted Water Quality Meter
$49.56
$39.64


More Info

Myron-L Hand Held Conductivity Meter

Catalog id : 532T1

Analog Total Dissolved Solids Meter
$580.12
$538.68



All Images are representative and may or may not be of actual product.



Tags : NORTHRIDGE WATER | RO | METERS

NORTHRIDGE-WATER.COM content (C)2009-2023 APS Water Services Corporation - All rights reserved
Website Software - Multi-Website Content Manager - Wilson Web Engineering (C)2012-2023


Micro-Website is a trademark of Wilson Web Engineering

ro meters
northridge-water.com micro-website™
12/5/2023
2:37:55 PM




Google Apps
---