ON SALE NOW
Introducing the Polaris Lab Water Systems
High Purity Water Made In The USA.
Click here for more info.
LaMotte Model AR-02 Combination Test kit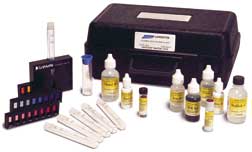 Provides Drop Count test for Hardness Octet Comparator test for Iron .05 - 10 ppm and pH 5.0 - 10 . Includes 100 tests for Iron and 50 tests for Hardness and pH.
More Info
Product Name
Retail Price
Our Price


More Info

LaMotte Model AR-02 Combination Test Kit

Catalog id : AR-02

Hardness, Iron .05-10ppm and pH 5.0-10 Test Kit.
$274.89
$0.00
No
Longer
Available



All Images are representative and may or may not be of actual product.



Tags : NORTHRIDGE WATER | LAMOTTE | MODEL | AR-02 | COMBINATION | TEST | KIT

NORTHRIDGE-WATER.COM content (C)2009-2023 APS Water Services Corporation - All rights reserved
Website Software - Multi-Website Content Manager - Wilson Web Engineering (C)2012-2023


Micro-Website is a trademark of Wilson Web Engineering

lamotte model ar-02 combination test kit
northridge-water.com micro-website™
12/5/2023
2:38:42 PM




Google Apps
---