ON SALE NOW
Introducing the Polaris Lab Water Systems
High Purity Water Made In The USA.
Click here for more info.
PurTest Test Kits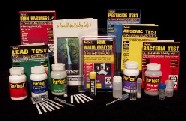 Purtest kits are do-it-yourself kits for testing and analysis of impurities such as bacteria lead pesticides nitrate nitrite hardness and other contaminants in residential Industrial laboratory and pharmaceutical applications.

The Purtest kits allow the end user to quickly and easily monitor a wide variety of parameters in just about any type of water supply.
More Info
Product Name
Retail Price
Our Price


More Info

Lead Test Kit

Catalog id : PUR-LEAD

For Testing Lead In Water
$37.40
$0.00
No
Longer
Available


More Info

Water Test Kit

Catalog id : PUR-HOME

Complete Home Water Kit - 1 each - bacteria, lead, nitrates, nitrites, chlorine, iron, copper, pH, total alkalinity, total hardness, iron bacteria, hydrogen sulfide.
$108.89
$80.66


More Info

Iron and Hardness Test Kit

Catalog id : PUR-IRON

Iron and Hardness Test
$21.96
$16.27


More Info

Bacteria Sampler Test Kit

Catalog id : PUR-BAC

Measures Bacteria In Water.
$45.03
$33.36


More Info

Water Test Kit - Science Project or Home Use

Catalog id : PROJECT-KIT

School project kit. Contains five each of 8 tests: nitrites, nitrates, chlorine, iron, hardness, pH, alkalinity, copper. Also includes 5 basic water knowledge booklets.
$48.97
$30.44


More Info

Purtest Pesticide Kit

Catalog id : PESTICIDE-KIT

Water Filtration Product
$46.22
$34.23



All Images are representative and may or may not be of actual product.



Tags : NORTHRIDGE WATER | PURTEST | TEST | KITS

NORTHRIDGE-WATER.COM content (C)2009-2023 APS Water Services Corporation - All rights reserved
Website Software - Multi-Website Content Manager - Wilson Web Engineering (C)2012-2023


Micro-Website is a trademark of Wilson Web Engineering

purtest test kits
northridge-water.com micro-website™
12/5/2023
1:10:33 PM




Google Apps
---