ON SALE NOW
Introducing the Polaris Lab Water Systems
High Purity Water Made In The USA.
Click here for more info.
Hach Water Test Strips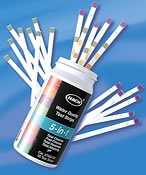 We offer a full selection of test strips. Test strips are an easy way to measure most contaminants found in water. Test for Hardness Iron Chlorine pH Alkalinity and others.
More Info
Product Name
Retail Price
Our Price


More Info

Water hardness Test Kit

Catalog id : 611213

Bottle of 50 Water Hardness Test strips
$30.41
$22.53


More Info

Nitrate - Nitrite Water Test Strip

Catalog id : 641426

Aquachek Nitrate/Nitrite Bottle of 25
$77.49
$57.40


More Info

Hach 5 Way Test Strips

Catalog id : 621410

Bottle of 50, Free Chlorine, Total Chlorine, Total Hardness, Total Alkalinity and pH.
$43.21
$32.01



All Images are representative and may or may not be of actual product.



Tags : NORTHRIDGE WATER | HACH | WATER | TEST | STRIPS

NORTHRIDGE-WATER.COM content (C)2009-2023 APS Water Services Corporation - All rights reserved
Website Software - Multi-Website Content Manager - Wilson Web Engineering (C)2012-2023


Micro-Website is a trademark of Wilson Web Engineering

hach water test strips
northridge-water.com micro-website™
12/5/2023
2:23:09 PM




Google Apps
---