Katalox Light Iron Treatment Systems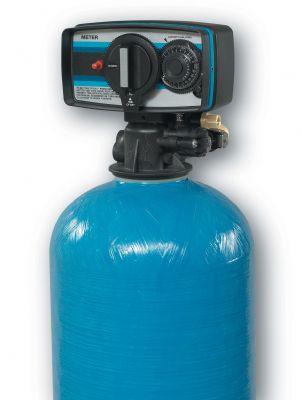 Eliminate iron sulfur hydrogen sulfide) Manganeese and particulates.

Chemcical Free. Katalox only needs to be back washed and average of every other day. Works well in pH ranges of 5.8 and above.

Media Description: High content10%) gamma Manganese dioxide MnO2) coated ZEOSORB

Katalox-LightŪ Removal methods:
1. Mechanical Filtration fine particles TSS Turbidity etc.)
2. Catalytic precipitation and sorption Fe Mn Cu Pb etc.)
3. Adsorbtion flocculant formation and adsorption of As Heavy Metals Radionuclides)

As a side note : If you have both Iron of at least 1 p.p.m. Katalog will remove up to 50 p.p.b. of Arsenic. The arsenic is removed using the Iron Oxide that binds to the media.
More Info
Product Name
Retail Price
Our Price


More Info

Katalox Light System

Catalog id : 56AFB-10-KL

10" x 44" Requires Backwash Only. For flow rates up to 7 G.P.M. Other sizes are available. Comes complete with Fleck 5600 Valve Controller, 3/4" By-Pass, Tank and Media
$1,272.67
$942.71


More Info

Katalox Light Filter Media Only

Catalog id : KATALOX-50-BOX

Requires Backwash Only. For flow rates up to 7 G.P.M. Per Ft3. Sold in 0.5 Ft3 Bags.
$212.71
$157.56


More Info

Katalox Light System

Catalog id : 2510AFB-12-KL

12" x 48" Requires Backwash Only. For flow rates up to 10 G.P.M. Other sizes are available. Comes complete with Fleck 2510 Valve Controller, 3/4" By-Pass, Tank and Media
$1,794.47
$1,329.24


More Info

Katalox Light System

Catalog id : 2510AFB-13-UPS

13" x 54" Requires Backwash Only. For flow rates up to 15 G.P.M. Other sizes are available. Comes complete with Fleck 2510 Valve Controller, 3/4" By-Pass, Tank and Media
$2,568.15
$1,902.33