ON SALE NOW
Introducing the Polaris Lab Water Systems
High Purity Water Made In The USA.
Click here for more info.
R.O. Systems - Designer Faucets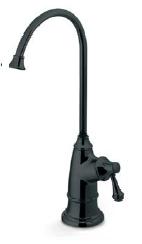 The Tomlinson Designer RO Faucet allows the dealer to match a high style RO faucet with today's high-end kitchens. Made of high quality lead-free brass the Tomlinson Designer RO Faucet is a real standout - and a great opportunity for you to set yourself apart. Additionally the faucets feature a smooth operating ceramic disk element lever style handle high neck design of 12'' the neck swivels easily - 360° a unique protective spout tip prevents after drip a 2-1/4'' base NSF listed to ANSI NSF Std. 61-1999a mounting hardware and a two-year warranty.



All Images are representative and may or may not be of actual product.



Tags : NORTHRIDGE WATER | R.O. | SYSTEMS | - | DESIGNER | FAUCETS

NORTHRIDGE-WATER.COM content (C)2009-2023 APS Water Services Corporation - All rights reserved
Website Software - Multi-Website Content Manager - Wilson Web Engineering (C)2012-2023


Micro-Website is a trademark of Wilson Web Engineering

r.o. systems - designer faucets
northridge-water.com micro-website™
12/5/2023
1:12:45 PM




Google Apps
---